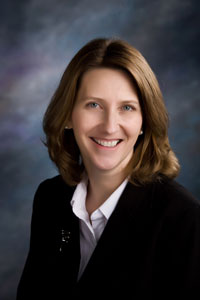 Laurel's expertise is focused on working with small businesses and individuals. Her experience includes developing tax planning strategies and preparation of individual, partnership and corporate income tax returns. She enjoys working with businesses on their accounting, bookkeeping and payroll concerns. An area of special interest to Laurel is the unique challenge of reconstructing incomplete financial records.

Before joining Stenseth Samuelson & Boese, Ltd., Laurel worked in four different CPA firms and had a variety of different experiences working with businesses and individuals. Her work included individual and business tax services as well as involvement in review and audit services. Laurel came to the Twin Cities in 2001 from St. Cloud, MN and joined us in November 2003. She graduated with Honors from Mount Mary College in Milwaukee, WI in 1990 with a Bachelors Degree in Accounting and passed the CPA exam on her first attempt that November.

Laurel lives in the East Metro area with her husband Jeff. She enjoys singing in the church choir and reading.